Citizens can now Access the Services they Need with REGS
This month at GTEC 2013 CBCI Telecom demonstrated its latest Collaboration Solutions. Close by there was also Cisco innovation and solution – REGS. REGS stands for Remote Expert for Government Services solution and it's being coined a little revolution.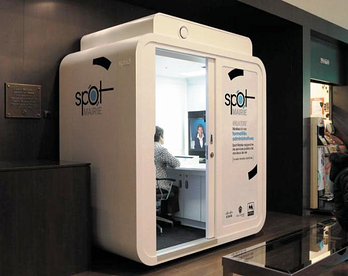 REGS is a fully interactive cabin solution enabled by Cisco's TelePresence video technology. REGS combines interactive video experience with remote management software capabilities to support real time collaboration services between government agents and citizens. It gives convenient, cost-effective, face-to-face access to government representatives and services from remote locations. Equipped with Remote Expert Manager software, a touch screen monitor, and a document scanner, it makes sharing documents and collaborating together very simple and convenient.
The REGS cabin can be deployed in a convenient location close to citizen residences and workplaces to reduce both the cost of serving the public and your carbon footprint.
Why REGS for government?
Deliver high-quality citizen services remotely and yet in a face-to-face interaction
Offer a virtual pool of experts in a centralized environment, maximizing the effectiveness and reach of their knowledge base as well as increasing citizen engagement and satisfaction
Reduce your costs through real estate consolidation resulting from centralization of expert resources and your Carbon footprint as citizens no longer need to travel long distances to government centers
REGS uses Cisco TelePresence technology to provide a face-to-face collaboration & access to government representatives and services. It integrates security cameras, digital signage, digital signature pads and queuing systems for additional capabilities.
REGS is a life changing technology that will impact our agendas in a great way!  Just think about the possibilities in our sea-to-sea nation of Canada. Citizens from any distant community will be able to remotely get administrative paperwork done and to save at both time and money in travel at the same time. Renewing a passport or a health card will now be easy and fast within your location wherever a REGS has been deployed.
Hey Yuppies, don't worry you can get your REGS too!
Carbon footprint and costs can also be reduced in big cities as well. You can deploy a REGS downtown in business centers or malls to also serve urban citizens while at work. Take a few minutes in your lunch break to go downstairs and get you things done!
REGS reduces costs in delivering services to citizens through an incredible TelePresence experience
For more information, please contact CBCI Telecom here