Interactive Whiteboards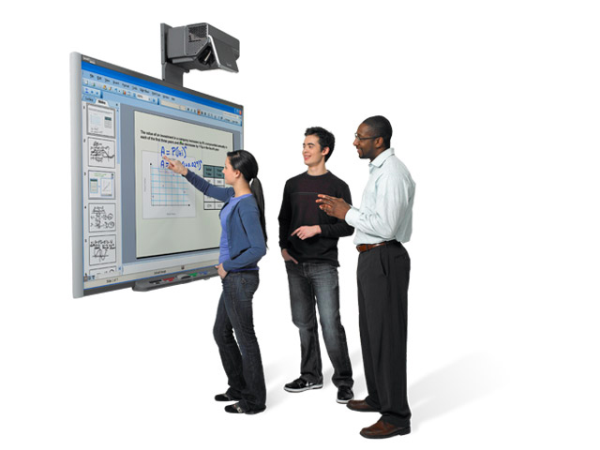 An interactive whiteboard is a piece of hardware that looks much like a standard whiteboard but it connects to a computer and a projector to make a very powerful collaboration tool. When connected, the interactive whiteboard becomes a giant, touch-sensitive version of the computer screen. Instead of using the mouse, you can control your computer through the interactive whiteboard screen just by touching it with a special pen (or, on some types of boards, with your finger).
Interact with your PC
Anything that can be accessed from your computer can be accessed and displayed on the interactive whiteboard, for example Word documents, PowerPoint presentations, photographs, websites or online materials. Using special software included with the interactive whiteboard, you can also interact with images and text projected on the board: rearranging them, changing their size, color, etc. This offers a much more interactive experience than using a standard whiteboard or using a data projector alone.
Engage Students
Interactive whiteboards affect learning in several ways, including raising the level of student engagement in a classroom, motivating students and promoting enthusiasm for learning. Interactive whiteboards support many different learning styles and are used in a variety of learning environments, including those catering to students with hearing and visual impairments.
Interact with the Lesson
Teachers like whiteboards because they allow students to interact with the lesson rather than just sitting and watching the teacher or the computer. Students enjoy being able to touch the screen and make changes, stimulating their involvement with what they are learning and making them more likely to retain the information since more of their senses are involved in the lesson. Instructors also enjoy the freedom whiteboards offer; they can be fully engaged with students while they are demonstrating computer-created learning materials.
In summary, Interactive whiteboards create a range of learning opportunities for both students and teachers. Studies have found them to be highly motivating and learner-centered when integrated innovatively. Moreover, they offer a powerful facility for integrating media elements into teaching to enhance content and support collaborative learning.
Interactive whiteboards are ideal for small group, collaborative work, where several people can cluster around the board and interact with it as they develop ideas, work with an application or deconstruct an image.
For more details on Interactive Whiteboard see our listing SMART Technologies products and accessories on our Audiovisual Catalog.
Let us know how you've used interactive whiteboards to enhance your classroom lessons and we will feature it in our next Blog Post.
Written by Gali Jennewein, Senior Account Manager, CBCI Telecom