We're always curious about how customers use our products. Aside from asking our customers directly – we enjoy following up and getting feedback from them after CBCI has installed a video system – we also tend to keep an eye out for information from others in our industry that can help provide us with valuable insights about how companies in different industries incorporate, use and react to video in their places of business.
So when we came across a survey on our partner Vyopta's website asking customers exactly how they use video in their places of work, we were intrigued. In this survey, they asked large organizations from different industries including healthcare, education, oil and gas and technology about how they use video. By far the most popular response was for internal meetings: 90% of the organizations they asked said they use video for conferencing. No surprise there: we have written for ages on this blog about how beneficial videoconferencing can be for building relationships and connecting individuals at companies that are spread out across the country and world.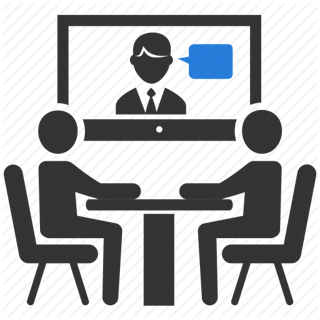 How about the second most popular response? 60% of the survey respondents replied that they use video for B2B meetings. We understand how advantageous it can be to build relationships with partners and customers through videoconferencing. Other popular uses of video included to provide support and to hold sales meetings. These responses definitely highlight the diverse ways organizations use video to connect individuals across an organization and across different businesses.
In addition to all of this information, in the survey, Vyopta also found out that many organizations are expecting to grow their video use in the next 2 years. It sounds to us like more and more organizations are jumping into video in their workplace! These answers also indicate to us just how valuable video has become to many organizations across different industries.
Aside from uncovering all of the advantages companies are finding in using video, they also asked customers about their biggest challenge with implementing video. 40% of those who responded to the survey said the biggest challenge was driving usage and adoption. This is interesting, but not altogether surprising to us: it can be difficult for organizations to implement any kind of change in a workplace. I believe that even with positive and useful resources like video, some employees can be reluctant to incorporate new technology into their daily workflow, or may need special training before they can figure out how to optimize their use of video.
Another challenge companies see with the adoption of videoconferencing in the workplace are the costs of implementing video and the challenge of showing a return on that investment. Tracking the benefits of the use of videoconferencing across an organization can be difficult, because these benefits are often intangible: video can help build better relationships through the use of video versus talking over the phone. Showing presentations in real-time through video, and collaborating "face-to-face" through the use of video, can leave individuals with positive feelings about their colleagues and business partners and even increase the quality of communication and productivity, but these less tangible benefits can be difficult to track and correlate solid dollar benefits and savings from. Of course, reducing the costs of travel is one more concrete benefit!
It's worth mentioning that we always recommend video solutions to our customers that are in a price range that they are comfortable with.
Regardless of the challenges, it's evident that video is a valuable tool to many organizations. Clearly, businesses see the benefits of giving their employees this valuable tool to work with! It is easy to see why more and more companies are keen to add and integrate video capabilities with their workflow.