Your business is outgrowing your installed technology – what do you do?
If you've been successfully running your own medium-sized business for a while, then you're likely to be experiencing at least one of the following issues with your IT assets:
Overwhelmed IT resources and employees
Disparate voice and data networks that are increasingly difficult to manage
Aging technology with poor scalability and high maintenance/management costs
Difficulties accommodating changing consumer preferences and newer technology
It's time to upgrade your company's technology, not least of which would be your communication needs – you can't do business without talking to your customers, after all. In that vein, may I recommend the Cisco Business Edition 6000 (BE6000) collaboration solution?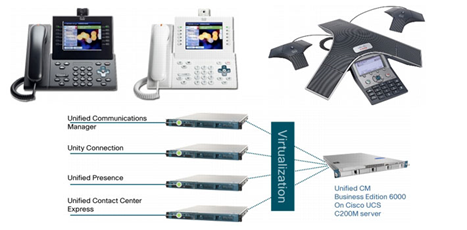 The BE6000 solution
Specifically optimized for medium-sized businesses (that have up to a maximum of 1000 users), the BE6000 packaged solution consists of a single integrated platform that consolidates all of the following full-featured, enterprise-class communications and collaboration services into one on-premise server station:
premium (HD) video and voice capabilities
messaging
mobility
conferencing
contact center
The easy-to-install BE6000 can offer all of this consolidation of applications into a single platform due to the fact that it is built on Cisco Unified Computing System (Cisco UCS)products. There are two preconfigured options for the BE6000 (both have the Cisco UCS C220 M3 Rack Server as a foundational element):
Medium-density server: Supports up to four collaboration applications and one management application – a maximum of 1200 devices can be supported;
High-density server: Supports up to eight collaboration applications and one management application – a maximum of 2500 devices can be supported.
Other foundational elements:
Cisco UC Virtualization Hypervisor
Servers are prepared with useful, ready-to-use pre-installed configurations. Of course, you can easily reconfigure the system to meet your specific needs. Speaking of which,…
For the safety-conscious among you…
…You'll be pleased to find out that Cisco cares about your safety too! One of the options with which you can customize the BE6000 is the Cisco Emergency Responder service. With this service in place you'll be able to automatically track the emergency caller's location, alert your security personnel to emergency calls in progress, and log the calls (among other useful emergency features)!
Ultimately, adopting the Cisco Business Edition 6000 solution will enable your midsize business to reduce your total cost of ownership (TCO) and, more importantly, increase your return on investment (ROI). CBCI Telecom's unique lifecycle approach to installing and implementing these services can enhance your technology experience. We will enable powerful and elegant new ways for you to collaborate with co-workers, partners, and customers across any workspace to increase your business advantage.